RDHQ Podcast 107: Frequently Asked Questions About My New Love Your Kidneys: Delicious CKD Meal Planning Program
Podcast: Play in new window | Download
Subscribe: Google Podcasts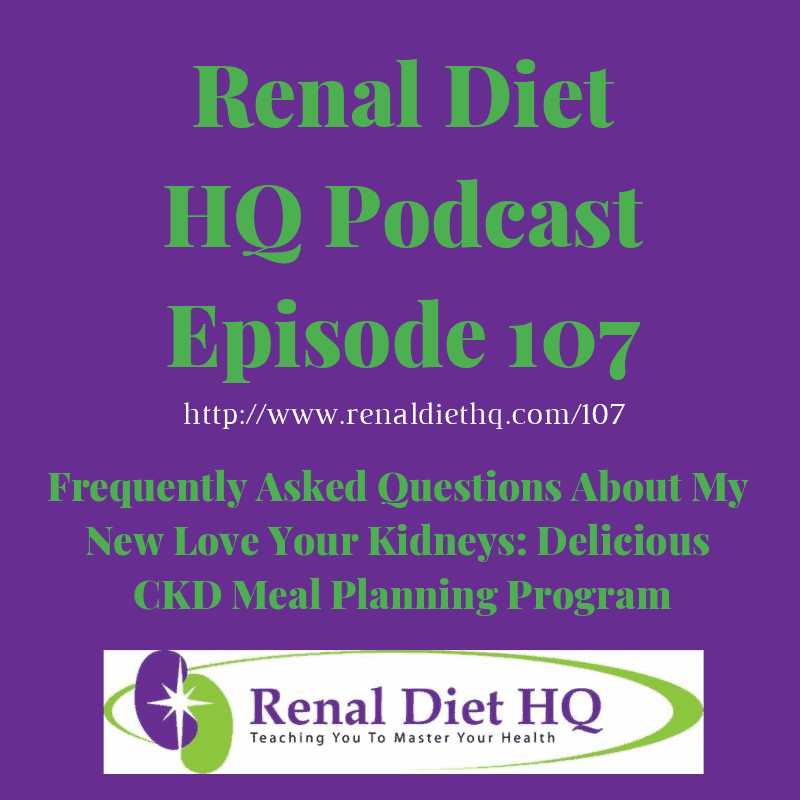 I want to talk program Love Your Kidneys Meal Planning. I have some frequently asked questions that I kind of wanted to go through.
I launched my new program and I'm so excited because it's Meal Planning. When you have kids, how do like work to commit and making it healthy yet delicious and time and it's going to be a 4-hour program.
Let me tell you a little bit of the course-specific notes right here. This week through Friday, we have something which is $297 one time charge and from February 26 through March 23rd, every week on Wednesdays at 7:00 AM Central. So, the 26th of February, the 4th of March, the 11th of March, 18th of March we're gonna have calls and those are each week, we have different topics.
The first week is like Meal Planning. Like understanding what those are and then the second week is some things like Meal Patterns. I'm going to give you some meal pattern samples. I'm going to teach you how to cut some foods in your list. I'm going to teach you how to use some lists to kind of how to input some foods just in there and then going to talk about recipes, how to adjust recipes, how to use some standard recipes to adjust their own recipes and then the last week is going to be about how to do Go Forward Meals.
You're going to be excited, you're going to get through it to keep it going, how do you bulk food prep, how do you do your grocery shopping to some ideas. Those will be live classes so it'll be interactive. We're limited to 20 each course, because I don't want to overdo it. I don't have too many... it's hard to answer questions.
The other thing that is about this is that I'm going to have three days where I do a Question and Answer. Monday the 9th of March, the second week and the third week of March, I'm going to do a question and answer with the group and just go through what questions. What things you know came up for you in the last week, answering those so it's like getting me live, getting me to answer questions about your kidney disease, questions about your diet.
I'll be online. It'll be through a program called Zoom and then all the sudden, you may have questions so you're expected to attend the classes. One of the things is you're going to go to the class and you're going to provide suggestions, provide comments. Let me know what those are and then once you are onboarded, it'll be available in a members' area. We'll have transcripts, closed captioning on it. You'll be able to submit your questions before the Question and Answer call or on the call for the questions and all individual appointments.
This is going to be a small group work. We're excited to do it because I want to do this little small group of 20 people. This is a program that I've done with other people that I really am excited to see how it can work in kind of the group setting. You're getting a lot of information. It's going to be the orders of education and questioning and answer. It's picking my brain.
Let's talk about some frequently asked questions. A lot of questions you know "if this is for me?" and my answer is if you have if you're taking care of someone with kidney disease, this is for you. Whether you were at the patient level or at a family or friend level this is not going to be written at the medical level. I'm going to do my best to answer all the questions you have. I'll make sure that it's clear and understandable.
We'll need to commit to attending the calls. It's going to be a great opportunity to learn more and get a great meal plan whether you have kidney disease or not. It's all going to be a cam call in on the calls in audio but the problem is the same calls you'll need to do a video on your computer as you will need to be able to see the slides as I'm talking to them.
Question and Answer call you can do live call only and again those will be replays. Let's take it to finish. It starts on February 26th and it ends on March 23rd. During that time and we're going to have the ability to give feedback that intense like "how do you get through these different tasks?" You need to participate, you need to do the calls. You're going to buy and then we start next Wednesday.
A week after and we're going to start and do the program. The promo is just this week. The early bird price is $297 yesterday through Friday at midnight Friday. At midnight is $597 and then the cart closes on the 26th of February when we start our first course. Well, then there's always an opportunity but I just don't want you to miss to get it at the discounted rate. We give you value and give you information about like I'll probably do a tracking form or you can tell me a little bit when kind of where you're at with your diet and then you'll have worksheets and stuff working on prior to the course.
Our refund policy is that because it is so it's affordable for $297. It starts February 26 through March 11. If you're not happy, if you don't like it this is something I can't do, I'll gladly give you a refund of $197. That does seem like what you're getting is a lot. What you're getting it's 4 live webinars that are in over an hour a week with me you're going to get printable transcripts, going to get recording over and over, you're going to get three hours of Question-and-Answer time with me. Which is a wonderful opportunity to talk through kind of where you're at and what are you having issues with. You're also going to get lifetime future updates. You're going to be able to subscribe again; you're going to be able to participate again. You're getting so many worksheets, a meal plan and pattern worth $1500, $1800 and you're getting PDFs that are going to be for tracking your meals, you get PDFs about recipe kind of things and all of that I value it over $600 so this is 80% off, $297 through Friday.
You're getting a lot. This is an early bird price. This is what it's going to cost you and you are to participate, you're going to have lifetime access. Think about contacting me in a month. In a month you're going to be still where you are. Whether that you're unhappy with your diet, whether that you seeing progress or not or in a month you can tell me and I'll have an idea of what you're going to eat. You can have a meal plan for the week in about 15 minutes and then quickly do a grocery list for the items you're going to have in your pantry, you can have kind of other things. We're going to work through all of that and your meal plan and you will be so much better prepared for that.
I can't imagine if you not doing it. But so, is this another frequently asked question, "is this a replacement for your doctor's?"
My answer to that is No. Like always it's not medical advice. This is me walking through a pattern that I've used with other people and through and you're going to make decisions, you're going to do the changes and I'm going to direct you to view what is the guidelines, what do they say and you're going to make decisions. I'm not going to write you a meal pattern. I will give you a sample just a start but it's your responsibility to talk to your providers before changing. It's either you're comfortable not comfortable with it.
Starting on February 26th at 6PM so that's when we're going to get together. You will get a lot information about that. But that's when our first live class is going to be. You're going to have life time access. The courses like early bird price because I'm building it as I go. When you think in the live class and I need to go for it, I'm gonna make the handout for it. It's one of those things that's kind of part of this program is understanding kind of what you need and what else you need. But you're going to have access to the program lifetime.
Another frequently asked question is "how much access do I get to you Mathea?" The answer is you know you'll have time on each contact. There'll be a chat where you could ask questions. I will go through call and we're it's a recall so there'll be one that's a teaching call and you'll have some time for some questions and then they'll be one a few days later where you can have implemented what we talked's about and you could do question and answer and talk through kind of what changes you want to make, what you know maybe I didn't explain it right. I may need to understand it a little better. That's always helpful to me too.
Those are views that people have asked me. Last question for pricing and how do you sign up?
You go to renaldiethq.com/lyk Love Your Kidneys and my program is called Love Your Kidneys CKD Meal Planning. The early bird is going to end Friday at midnight. Prices to change then and I think you get just a ton of value and I'm so excited to work with you with those small groups and work together with program and improve your health in 30 days. I love to hear these "I lost about 30 pounds this last year doing these stuff" that's so exciting for me because you know more about it and help you to do those things, you learn how to manage your meals and how to manage your day and how to plan ahead and just kind of get it together with your meal planning.
So really exciting and I hope you have a chance to go look over the Sales page if there are any questions you have, any other FAQs and I look forward to talking to you again soon! Thanks!