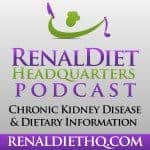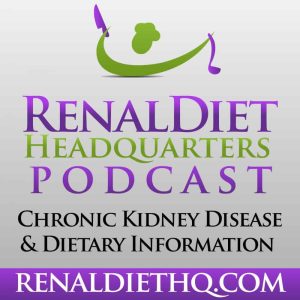 Podcast #11 Released on March 5, 2014. Good Day!
Send in your questions to podcast@renaldiethq.com
March is starting out with rough weather – what's your weather like?
March is National Kidney Month. Tell me what the early detection of kidney disease means to you? I talk about what it means to me – and I mention my book – Living with Chronic Kidney Disease
You can read more about National Kidney Month at the NKF.
I also talked a lot about how FDA proposes new food label and how much it helps – read more about it here: Food and Drug Notes on the New Label

I also gave some preview information about our new product this month that I have been working on all of February – it will be released the last week of March. I am offering a "pre-order" discount and next week I will give you a link to go to sign up for the notice. It's going to be a 100 page spiral bound notebook on "All Things Caregiving For Chronic Kidney Disease". You will find it to be a great resource, and it will be available in pre-order for less than half price – just for ordering early! You can get it in printed or digital format as well. Look for that next week.
Email me at podcast@renaldiethq.com for suggestions
Find us on iTunes at: www.renaldiethq.com/go/itunes
Find us on stitcher radio at: www.renaldiethq.com/go/stitcher
Podcast: Play in new window | Download
Subscribe: Apple Podcasts | Android | RSS
---
Also published on Medium.