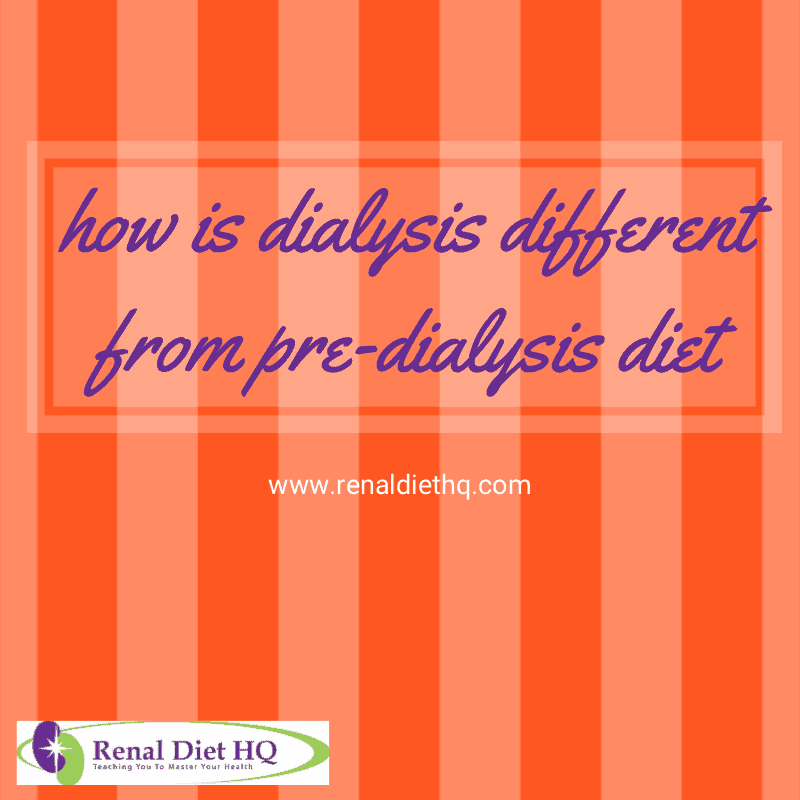 You will likely have different dietary restrictions as your chronic kidney disease changes. When your kidneys worsen, you will have to modify your renal diet to ensure you aren't consuming foods that will accelerate the process of losing kidney function.
It's essential that you understand a pre-dialysis diet isn't the same as the diet for those on dialysis. Your restrictions change, and some things you limited before no longer have to be so heavily moderated. Let's look at the common differences between these two types of renal diets.
For earlier stages of CKD, you will be given a specialized pre-dialysis diet. The exact restrictions will depend on the level of kidney function you have remaining. Since the organs can still filter some waste, you will need to watch certain foods and nutrients.
Limited Protein – Because protein wastes are difficult for your kidneys to filter from the blood, you will need to make sure you aren't consuming too much each day. It's also a good idea to get your protein from plant-based sources when possible, as they aren't as harsh on the kidneys as animal-based options.
Lower Sodium – Controlling your sodium is also vital on a pre-dialysis diet. Table salt should be avoided as a flavoring, and you should also eliminate processed foods from your diet – as they generally contain high amounts of sodium. Sodium causes your body to retain fluids, which is hard for damaged kidneys to remove effectively.
Potassium Restrictions – Another nutrient that your pre-dialysis diet will limit is potassium. CKD patients can easily collect an excessive amount of potassium in the blood, since the kidneys cannot filter it out very well. The result can be very dangerous, such as irregular heartbeat or even heart failure.
When you are placed on dialysis, you have a machine that filters wastes from your blood. You will visit generally three times per week for dialysis, or you can have a home machine that you use on your own.
Your doctor will recommend a dialysis diet based on the type of dialysis you are using to stay healthy. The two types are hemodialysis and peritoneal dialysis (PD). These two methods of dialysis have some similarities, as well as some differences between the two.
Increased Protein – Once you have been placed on dialysis you will need to up your protein intake. No longer do you have to limit yourself like you did on the pre-dialysis diet. In fact, it's important that you increase your consumption, since protein is lost through both methods of dialysis.
Change in Calories – Whether you are on a pre-dialysis or dialysis diet, you should be monitoring your calories to maintain a healthy weight – or to lose any unwanted weight. However, PD patients need fewer calories and carbohydrates than hemodialysis patients.
This is because the solution used to filter out the wastes during the PD process contains dextrose, which is a sugar. With the dextrose present, your body doesn't need as many calories.
Fluid Restrictions – You will most definitely have to limit your fluids once you are on a dialysis diet. While pre-dialysis requires you to control your fluid intake, patients on dialysis should drink no more than 32 ounces of fluid each day.
As you can see, there are some differences between having a pre-dialysis diet and a dialysis diet. The pre-dialysis diet is designed to keep your kidneys from having to work any harder than they should and to delay the decline in kidney function.
A dialysis diet is more lax in some areas, since the machine is doing the work for your kidneys, but you must make sure you are still consuming foods according to your diet and restrictions.