Podcast: Play in new window | Download
Subscribe: Google Podcasts | Stitcher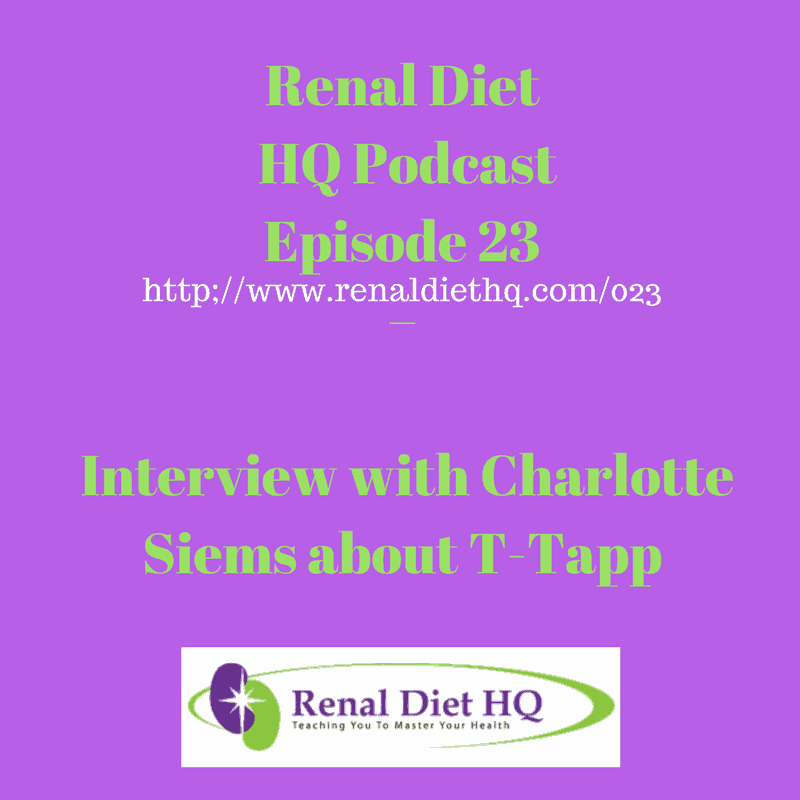 Podcast #23 Released on May 28, 2014
Send in your questions about exercise to podcast@renaldiethq.com
This week it's my interview with Charlotte Siems of charlottesiems.com
Exercise and Fitness is the theme for the month, and I want you to send in your questions about it.  I am going to spend time talking about how exercise and fitness make you better.
Welcome to the Renal Diet Headquarters podcast with your host, Mathea Ford, CEO of Renal Diet Headquarters. This is our weekly talk about how you can succeed with a kidney diet. Brought to you by renaldiethq.com, a website whose mission is to be the most valued resource on kidney disease that people can use to improve their health.
Hi, this is Mathea Ford, and I'm sorry that the podcast is a little late today, but I also want to let you know this is my interview with Charlotte Siems. And in the podcast, when I'm talking to her, I said, go to renaldiethq.com/022, but this is actually podcast 23. So, I wanted you to know that the proper link to go to to find all the information is renaldiethq.com/023. And let's get on with our conversation with Charlotte. She has some great information. Thanks.
Hello, welcome to the Renal Headquarters podcast. This is podcast number 23 and it's being released the week of Memorial Day on May 28. And this week I'm so excited to welcome Charlotte Siems. Charlotte?
Yes, I'm here.
Okay, Charlotte is with us this week. This month we're talking about exercise. And every week we've been talking about different exercises you can do. And last week I was excitedly talking about what Charlotte has done with T-Tapp a little bit. But, I wanted to start out and let her tell us a little bit about her story because her story is so inspiring and exciting and she's one of those people that have managed to lose some weight and keep it off. And I'm sure she's going to tell us some of her little secrets today. So, Charlotte, will you tell us a little bit about your story with T-Tapp?
Okay, about seven years ago, I found T-Tapp because two of my children were engaged to be married and I wanted to lose some weight and look better for those weddings. And I have twelve children, and at the time, my youngest child was one year old and I was 46 at the time. So I was really at that mid lifetime of hormones when women struggle with weight gain and their mid section, and I look like I was six months pregnant all the time and I was not. And I was exhausted. I had blood sugar issues all the time. My knees had just terrible problems with my knees from all the weight and chronic sinus issues. Just a lot of things going on where I just did not feel good. And I was really overwhelmed with the thought of trying to start exercising because I was not a fitness kind of person. I've never been a real sports person. I was pretty sedentary. And so to me, when I thought in my mind, exercise meant that she went to a gym for an hour a day, six days a week, that's what you always hear people talk about, and that does not appeal to me.
I have young children at home that hang on your leg when you try to get out the door. My family couldn't afford for me to go to the gym, and I did not have the time, so I just never did anything, and I didn't really like walking. I just stayed home. And so the thing that caught my eye about T-Tapp was I saw that someone said it was their favorite exercise, and they said it was a 15 minute workout. And so that caught my eye. And I clicked on this link on a blog and I went and looked at the T-Tapp website and I saw all these success stories. And I was a little skeptical, but a little bit of hope rose in me when I saw those stories. And so I went ahead and ordered the workout, and I bought the book getting Fabulous in 15 Minutes by Theresa Tapp. And I started reading all the success stories, and I tried to do some of the exercises that were in the book, but that was really hard for me to do from a book, so I didn't try that anymore. I waited on the DVD to get to my house and I read the success story.
And so then when I received the workout, when I did my first workout, I weighed 258 pounds. And I worked with 22 women and completely out of shape, hadn't exercised ever. And so that first few workouts was really tough. When I lifted my leg, it was like heavy because there was a lot to lift, but I kept going, and it was doable because anybody can do 15 minutes. I started out with the instructional workout, which is a little bit longer, but I did that for several days, and then I just started doing that 15 minute workout. I did it almost every day, and then eventually I set it into a schedule of every other day. And I just found myself losing inches because that's what T-Tapp focuses on, is losing inches rather than weight. And I just got more flexible, I got stronger. Within a couple of weeks, my kids were saying, wow, mom, you're not tired all the time anymore, because they had really noticed a big difference in me. And I liked it because it was a workout that was DVD. So, it was in my bedroom with the door shut. I didn't have to go somewhere and have people see me.
So, I like the privacy and the convenience of it. And I just kept working out. I kept progressing in my understanding of the workout because it's a special workout, it's different than other types, and I just kept going. And eventually I started losing sizes, and I finally, eventually lost more than 100 pounds because I also started only eating when I was hungry and stopping when I was full, and just kept doing the T-Tapp, which helps with digestion and assimilation and different things for your body. It's a very rehabilitated workout, the Health workout, and eventually I went from a size 22 women to a size six, and I stayed there. I'm in a size six or eight, and I'm now 53, and so I've been doing T-Tapp for about seven years, and I eventually became a T-Tapp trainer, and so I help people with the workout, but I still love it to this day. I still do not consider myself a real fitness person or a sports type person, but I'm strong and flexible, and the way I told you, it works on inch loss, it reshapes your body. I got my waist back, it flattened my tummy even after giving birth twelve times, and my biggest baby weighed 11 pounds, 10oz, and so you can imagine what I look like.
It's not a miracle, of course, but kind of close, it rehabilitated and reshaped my body after that much obesity for years and having a big family. And so I love T-Tapp still, and I still teach it and believe in it, and I love to share it with other people.
So how often do you do T-Tapp now.
Well, to maintain, I try to do at least four short workouts a week, and that is one cool thing about T-Tapp is as you get to be where you want to be, you don't have to keep doing it more and more to maintain. You actually can do it less because you're stronger. Your body does not adapt to it because as you get stronger, you can activate muscle and your body continues to receive benefits. And so I do maybe four workouts. Three, four. While I was losing the weight, I needed to do at least four workouts a week to lose inches, and if I did five or six workouts a week, I lost inches faster, but three workouts a week was enough to maintain. So, that's not bad.
No, that's not Are you talking about 15 to 30 minutes? I think your story is just wonderful because we all think once we get into our forties and fifties, all of a sudden, it's impossible to lose weight, and we're just kind of stuck where we are. When I did T-Tapp it's deceptively simple, yet it's very difficult. It's not the right word. It's very challenging. Yes, that's the right word. So, you're doing it and you're getting a workout, but you're kind of holding these positions, and it causes your muscles to be sore a little bit. And each day you kind of build on that. But, it takes a little bit to learn the form and everything. And you're right that it's a little bit different. So, can you tell us why it's different?
Well. T-Tapp works on the alignment of the body and the shoulder to hip alignment. So, the stance is a special stance where your toes are forward, you bend your knees, press your lower back flat and then your knees go out. You'll feel like you're riding on a horse. And all the time you're keeping muscle activated. And it works five to seven muscle groups at a time. So, it doesn't work just the belly of the muscle, so people do not bulk up with T- Tapp. It builds long, lean, graceful muscle because it pulls on both ends of the muscle. And so it works on the core, which is a big word in fitness these days. And T-Tapp has had the strategy for years, where it strengthens your core and the muscles along your spine, which is very important for balance as you get older, because older people tend to not use their core. They use their legs and their arms to carry groceries and things like that, but we don't walk along the curve and balance ourselves when we're older, but build that core muscle like kids do. And that's very important for balance as you get older, to not fall and break a hip or things like that.
It's an all around good wellness workout, but it's actually deeper than meets the eye.
Well, and it's also low impact, right? You're not running around and jumping, and you're really just standing and doing some activities, but not jumping and running.
Right? There's no jumping, no weights, no equipment. You only need about four or five square feet of space. So, it's easy to do in a small bedroom and you don't have to have in fact, I recommend you don't need stretchy bands or anything like that that will cause muscle imbalance. And so you really just need a good pair of cross-trainer shoes and a DVD player to do your T-Tapp workout.
Yeah, I know. You really just kind of stay in this small area and you can do all the activities within there. And then, like I said, it's deceptive because the first day you do it and you do the training video, which kind of shows you all the main activities, and then the next day you're like, oh, my legs are sore, but you think, I didn't do that much. But, in the video it is very much emphasized on the alignment of the body and good posture and keeping and I know a lot of back pain and everything. Didn't Teresa Tapp have some back issues? That was she kind of why she developed it.
When she was a teenager. She fell off a balance beam and actually, I think, chipped her vertebrae or something. So, she has fused vertebrae and basically began to live with pain from that point on. And so the things that she figured out for her own body, the body mechanics to deal with that pain, is basically the start of T-Tapp. And then she eventually went to Europe for almost 20 years, working with models as a new face developer. While she was in Europe, she was able to see how the human body responds to different exercises to trim and tone, because she would have to get models ready right after they had a baby for a photo shoot, and they loved her exercises because they were quick and they were effective. And it was about the inch loss, not the weight, because T-Tappers tend to weigh more than other people weigh, because T-Tapp builds muscle density, and so you have good muscle density, and so it's not so much the weight, because who cares what you weigh if you're wearing the size that you want to wear?
Yeah. Or you're healthier. You can do the things that you need to do, like pick up your grandkids and go for walks and stuff like that.
One of the teachers has instructions on how to get up off the floor or to sit down in the chair and to stand up from the chair and to go up and downstairs. In daily life, if you have problems like knee problems or hips and things like that, this shows you the correct way to help your body deal with that. So, I love Theresa's rehabilitative approach to exercise. I love how she has developed an exercise program that is for the common man for all ages, all weights and sizes. It's not about just these little twenty something, teeny bopper kind of in model, but it looks all ages and sizes. If you go to the T-Tapp website, the annual 60 day challenge with the contest and there's all different categories, more or less health issues, everything. And I love that.
Yeah. Okay, so you started kind of telling us a little bit about some maybe my audience has a lot of the chronic kidney disease or has a lot of chronic illness issues. They may be older. So, what sort of T-Tapp has some workouts that are good for that category of person at least to just get started with? So what would you recommend for them to get started with? If somebody wanted to go and see about getting a tape.
Okay. Okay. But the one I was talking about that I referred to earlier was and it's for people with more birthday candles, more health issues, more weight to lose. And it is a workout that is 20 minutes long. And then plus, it has some other short workouts that go with that. But you can just do just this one ten minute workout, or you can add the ten minutes with another one. There's a chair workout on that DVD set where you can sit in a chair and actually lose inches and get healthier sitting in a chair. There's a stepping workout and also a broom workout. But you need a broom handle because it helps your body stay in alignment. And that one is the one with the instructions about stairs and chairs and things like that. And then T-Tapp has a newer workout called Senior Fit. And it is one of my most favorite workouts because it's just an amazing workout that's getting great results for people and for everybody, not just seniors, but it's a little longer workout so you can actually do the instructional and then break it up in pieces over a few days if you wanted to do that.
But Senior Fit is a really great workout. And then there's one called Healthy Hormones Menopause Management. And that's not just the hormones and menopause, but it has a lot of the Senior Fit principles in it and it's just a little shorter work out. I think it's 27 minutes and it's just a really great lot of kick outs and water breaks. But we want to keep it doable, it's counterproductive. If you have health issues, it's counterproductive to try to do too much and push through and skip water breaks because you'll just create more inflammation and inflammation causes aging and disease. So, you want to take those water breaks and come back to the next move and reset and be stronger.
I agree. You have a tendency when you start to work out to think, okay, I'm just going to do a lot, I'm going to get this. And I think her approach, you start slow regardless of what program you're on, she starts you with, let's learn the basics, let's do it one at a time. Let's make sure you understand the form because the form is the important part of the program.
Right.
Once you kind of do that for a week and then you get kind of over the soreness of that and then you go and you start on the other activities and then you're like, oh yeah, okay. There's the other muscles that were hiding behind the ones that were hurting last.
These workouts that I mentioned, all of them are a little different than probably the ones that you have done. They have more kick out and clock away, which will help get rid of that lactic acid, sodium and don't have the soreness. And so you'd be surprised. It's more energizing than sore, actually. Okay, yeah, pretty cool.
Okay, so Charlotte, I had wanted you to kind of even if somebody oh, you did tell me something else. You told me that they have like a try before you buy on the website, which I will link to the website in the blog post, which is going to be renaldiethq.com/022. But, can you talk about that? Where they would find that?
Well, at the T-Tapp website, which is t-tapp.com, there is a try before you buy section and you'll click on that at the top menu and that will take you to a page where there are short YouTube videos of different moves and you can try it out. And there have been lots of people who have gotten results and lost interest just with the try before you buy exercises. So, that's kind of fun.
Okay, so can you give us some tips like being a T-Tapp trainer and having done T-Tapp for a little while, some tips for everyday life that even if somebody didn't go get a T-Tapp, but things that they could do just to be healthier and to improve their level of health with using some of the principles.
Okay, one important principle with T-Tapp, like I said, the shoulder to hip alignment because a lot of us tend to let our shoulders roll forward and we collapse the chest as we get older, especially if we're looking down as we walk. And so if you will do things like when you go to the grocery store and you're pushing that cart, if you will just flip palms up, thumbs away as you're pushing the cart, that's going to roll your shoulder joint back and engage your abs actually while you're pushing the cart. Another thing is during the day you can do shoulder rolls. A lot of us are very trap dominant, which is the muscles along the tops of our shoulders and they both get real tense and they kind of creep up during the day. So you can just flip your palms so that the palms are forward and just do some real loose shoulder rolls. Don't roll with the elbows, roll with your shoulders and then just drop them. Don't jam them, just let them drop, relax and that will help a lot with that tension throughout the day. Another important thing is to lift ribs.
This is basically your mother was right when she told you to stand up straight because lifting ribs and having really good posture will help your body help itself. The goal is to get the spine as long and tall as possible. The neck is part of the spine. You want to stand up straight and tall, pretend someone grab the top of your head on your hair and it's pulling your hair because you would straighten out in a hurry. And so if you can think during the day to lift ribs and stand and sit up straight and it will become second nature eventually, at first you'll have to keep reminding yourself because we tend to slump. And so if you learn to do this, eventually you'll get stronger and it will feel more natural and that can help your body. And that is what T-Tapp is all about, is to help your body help itself when you move your body and get it into alignment. He realized that when you walk downhill, you burn more calories than when you walk uphill because your shoulders are in alignment with your hips when you're walking downhill. So, that kind of opens up the neurokinetic flow, the mind to muscle flow in your body when you're walking downhill.
No, I didn't know that. It's good to know. Yeah, I know. You kind of have to slow yourself down a little bit sometimes, right?
Yeah.
But you do tend to kind of lean over and kind of put your arms when you're walking uphill. Yeah. Okay, well, those are good tips and I would just encourage anybody to go and do some of the try before you buy. And I will put a link to the things we talked about, the T-Tapp more and the Senior Fit and Healthy Hormones. And I just think it can be so helpful to people just to do even 15 minutes every other day, just to get started on that program, to improve your posture and make yourself a little healthier. And that's why I talked about exercise all this month, because I think it's important. But it's not like you said, it's not an hour every day for six days a week. You can actually do it with a smaller amount if you do a concentrated effort and you really focus on those areas that can make the most results from that.
Right? And I tell people that the workout that works is the one you'll do. So, if it's keeping you from exercising because you're planning to do this 45 minute workout but you never get around, that does, you know, no good. But if you do 10 or 15 minutes or set a timer for 7 minutes and exercise, that is better than nothing, and you'll usually find it to go a little bit longer, but you just have to keep it doable and keep it real for your life, and then you're going to be much better off.
Well, I 100% agree and I want to thank you for coming on today and let our listeners know that, like I said before, you can find everything on the show notes page. And that's it for today and I hope you had a great Memorial Day and I look forward to talking to you next week. Thanks, guys. Thank you, Charlotte.
Thank you. Bye bye.
All right, bye bye.
You've been listening to the Renal Diet Headquarters podcast. Head on over to the website at www.renaldiethq.com/go/email to sign up for our email list and get exciting updates every week on what is happening. Thanks and we will talk to you again next week.
#1 –  I am almost done with our new product this month that I have been working on all of May! I will be finished by Friday this week.  I am offering a "pre-order" discount and here is the link to more information: https://www.renaldiethq.com/go/caregiver.
Charlotte and I had a great discussion about how a little exercise can go a long way towards making you healthier.  T-Tapp has excellent workouts for every stage of life, and will help you be healthier and actually exercise!  You can do T-Tapp in just a few minutes a day, and they have workouts designed for seniors and people with health issues.  Check out their website at: https://store.t-tapp.com/categories/Starter-Systems/
Email me at podcast@renaldiethq.com for suggestions
Find us on iTunes at: www.renaldiethq.com/itunes
Find us on stitcher radio at: www.renaldiethq.com/go/stitcher