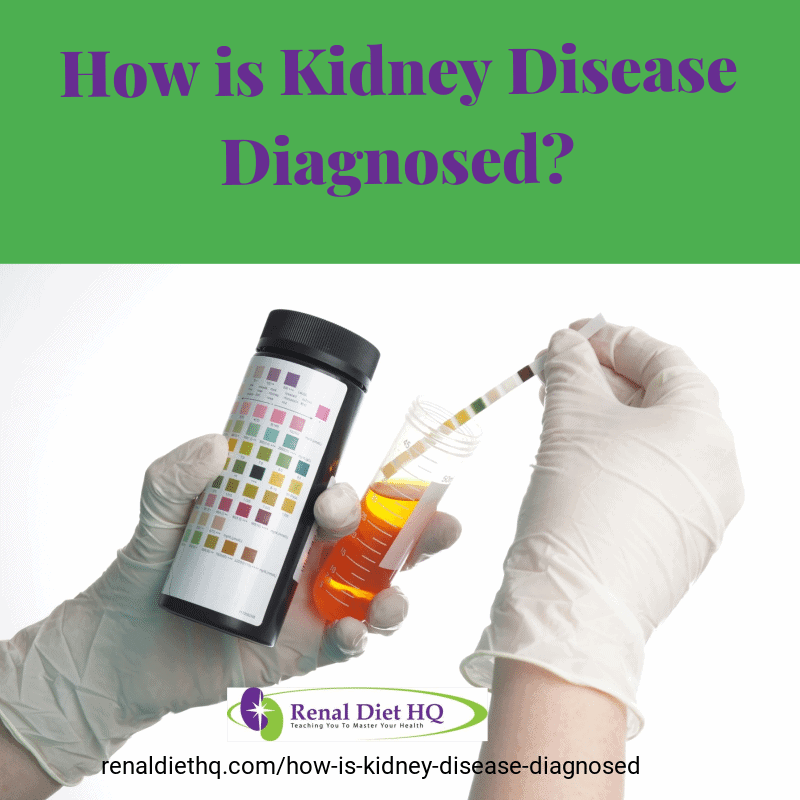 Have you ever wondered exactly how kidney disease is diagnosed? Maybe you have begun having symptoms or know a loved one that is experiencing them. Note that it's very common to experience zero symptoms of kidney disease until it has become well advanced.
With one in three Americans at risk for kidney disease (source), however, it is important that you understand how to find out if you have the medical condition.
Risk Factors for Kidney Disease
It's a good idea to stay informed on what can put you more at risk for kidney disease. When you know what can cause you to experience issues with your kidneys, you can work toward reducing these risks.
Existing medical conditions can definitely increase your chances of developing kidney disease. With diabetes and high blood pressure being two of the primary causes of this ailment, your doctor will want to keep an eye on your kidneys if you have either (or both) of these.
There are also lifestyle factors that can increase your risk for kidney disease. Obesity and smoking are two commons factors that can increase your chances.
Sometimes, genetics plays a role in your risk for kidney disease. If a parent, grandparent, or sibling of yours suffered from kidney disease, your doctor should monitor your kidney function closely to notice even the most gradual decline. Also, being African-American, Native American or Asian-American may increase your risk for developing kidney disease.
Visiting your Family Doctor
To start the process of being tested for kidney disease, you will want to make an appointment with your general family doctor. Of course, you should be seeing your doctor once a year for a medical checkup, and this process can start at one of those routine appointments. So whether you have a Windsor family doctor or a Portland family doctor, make your routine appointments so you can keep up to date on your health.
When your doctor discusses your family history, be sure that any history of kidney disease is mentioned. If you are an older adult, have diabetes, or suffer from hypertension or obesity, your doctor should already be monitoring your kidneys.
If he isn't however, you can always mention any concerns you have to get the ball rolling on testing. Discuss with your doctor any changes in your urine color or output, if present. You can also talk to your doctor about the medications you are taking which may affect your kidney health.
Testing for Kidney Disease
There are few different procedures that can be done in order to check the health and function of your kidneys.
A urine sample will be taken from you so it can be tested to determine the amount of a protein called albumin it contains. Protein should be contained in your blood rather than urine, since your kidneys have filters to keep the protein out. However, if your kidneys are not working properly, this test show increased levels of albumin in your urine – which can signify kidney disease.
Once your urine sample is collected the doctor's office restroom, the doctor or a nurse will use a special strip of paper called a dipstick to test your sample. This paper will change colors when dipped into your urine sample if a detectable amount of albumin is present (known as a positive result).
If your urine test produces a positive result, you will have to retake the test for confirmation. If you have three positive results in a three-month period, you could very well be in the early stages of kidney disease.
Those diagnosed with kidney disease regularly perform a urine test to monitor protein levels in the urine. When the amount decreases, it is a good sign that the treatment methods administered to the patient are working.
Another way to diagnose kidney disease is by checking the level of creatinine in your blood. Since creatinine is a waste product that comes from muscles, your kidneys should filter it from your bloodstream. If your kidneys aren't properly functioning, your creatinine will likely be higher than the norm.
Once your creatinine level is determined, it will be inserted into a mathematical formula used by doctors to determine your GFR, or glomerular filtration rate. This number shows how well your kidneys are working to filter wastes from the blood.
To learn more about GFR and the different levels doctors look at for diagnosing kidney disease, click on the Download button below.
In some cases, your doctor may order an ultrasound be done on your kidneys. This imaging allows your doctor to check for any abnormalities in your kidneys' structure and size.
Biopsies are typically not necessary in order to diagnose kidney disease. However, if your doctor thinks it's warranted, you may be scheduled for a kidney biopsy.
The doctor will use local anesthesia and a long, thin needle that penetrates the skin and your kidney to collect a sample. This sample will then be sent to a lab for testing, which may not only tell you if you have kidney disease, but may determine exactly what is causing your issues with kidney function.
Early Detection of Kidney Disease is Best
It is always important to catch a medical condition as soon as possible, and kidney disease is no exception. The earlier you are diagnosed, the sooner a treatment plan can be established to slow the progress of kidney function decline. Kidney failure cannot be reversed, but you can slow the progression and may even continue leading a happy, relatively healthy life for years after an early diagnosis.
And since the earlier stages of kidney disease may not produce any symptoms, it's essential that you be routinely tested for the condition. This is especially true if you have one or more of the risk factors for kidney disease.
Educating yourself on the process of a kidney disease diagnosis helps protect your own kidneys and your overall health. Understanding the procedures ensures that you stay on top of your kidney function to detect any early signs of the disease.