Picnic Meals For Pre Dialysis CKD
Picnics are a great way to enjoy the outdoors and spend time with loved ones, but they can also be an opportunity to make healthy meals that support your kidney health.
For people living with chronic kidney disease (CKD), pre-dialysis dietary adjustments are essential in managing their condition, just make sure to follow a easy diet plan predialysis.
In this article, we'll discuss how you can create delicious picnic meals for those on pre-dialysis CKD diets. We'll provide tips for choosing nutritious foods and making simple swaps that let you still enjoy all the flavors of summer without compromising your health. So grab a blanket, pack some snacks, and get ready for a tasty outdoor adventure!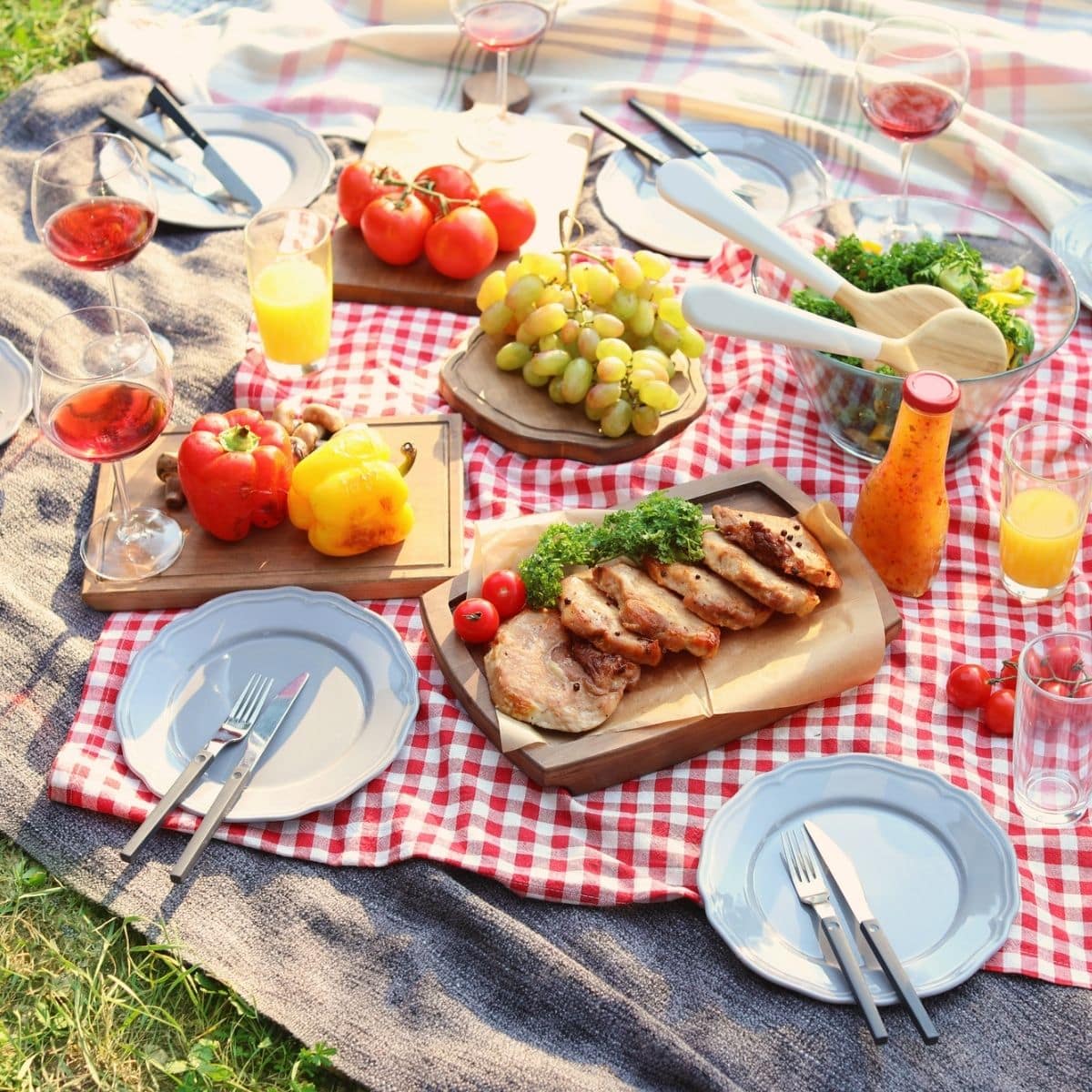 Jump to:
Meal Planning For Picnics
Preparing a picnic meal for pre-dialysis CKD patients doesn't have to be intimidating. With the right ingredients and easy kidney friendly recipes you can create delicious meals that are both affordable and packed full of nutrition.
Start by choosing packable dishes like sandwiches or salads made with fresh vegetables – these will provide plenty of healthy sides no matter where you're eating.
To add flavorful dressings to your meals, try using herbs and spices such as garlic powder, oregano, or basil. These can help make the most out of common ingredients while still providing an enjoyable taste experience for everyone at the picnic.
For those looking for portable desserts, donuts are always popular but why not opt for something healthier? Fruit parfaits made with Greek yogurt provide a sweet treat without all the added sugar from traditional desserts.
When planning your next picnic meal, keep in mind these tips so you can provide tasty yet nutritious dishes that won't break your budget either!
For More Recipes and Ideas --->> Get Your Free Meals and Recipes That Are Perfect for Pre-Dialysis Diets, Pre-Dialysis with Diabetes, or Dialysis Diets.
Understanding Nutrient Restrictions
To slow or prevent progression of kidney function decline, there are dietary restrictions in place for pre-dialysis CKD patients. Let's talk about protein and sodium restrictions in particular.
We know that protein intake should be limited for CKD patients, but how much should it be restricted by? The same goes for sodium.
Let's discuss how we can best prepare picnic meals that adhere to these restrictions. If you have more questions, please follow this grocery list for ckd patients.
Protein Restrictions
For CKD patients not yet undergoing dialysis, protein restriction is recommended to avoid further worsening of kidney disease. The recommendation is to consume 0.6-0.8 grams of protein per kilogram of body weight each day.
Portion control for CKD patients is one of the most important aspects when it comes to understanding nutrient restrictions for pre-dialysis CKD patients.
This means eating smaller meals throughout the day rather than larger ones, as well as being mindful of how much food they are consuming in each meal. The aim here is to ensure that they eat just enough protein.
Meal timing also plays a key role when it comes to portion control since having too big of a gap between meals will trigger cravings and lead to overeating later on.
Eating regularly, but with mindful portions helps people with kidney disease get their daily nutritional needs without overloading their system with excessive proteins.
Sodium Restrictions
It's important to remember that understanding nutrient restrictions for pre-dialysis CKD patients includes not just portion control, but also sodium restriction.
This means cutting down on added salt and avoiding processed foods which are typically high in sodium. There is a renal diet sodium limit.
Sodium intake must be kept at less than 2000 milligrams per day to avoid fluid retention and swelling.
To help achieve this, it might be helpful to incorporate a hydration strategy with renal friendly drinks like water or unsweetened tea and use low-sodium seasonings instead of regular table salt when cooking meals.
It's also important to keep active throughout the day as physical activity can help reduce cravings and cut back on unhealthy eating habits.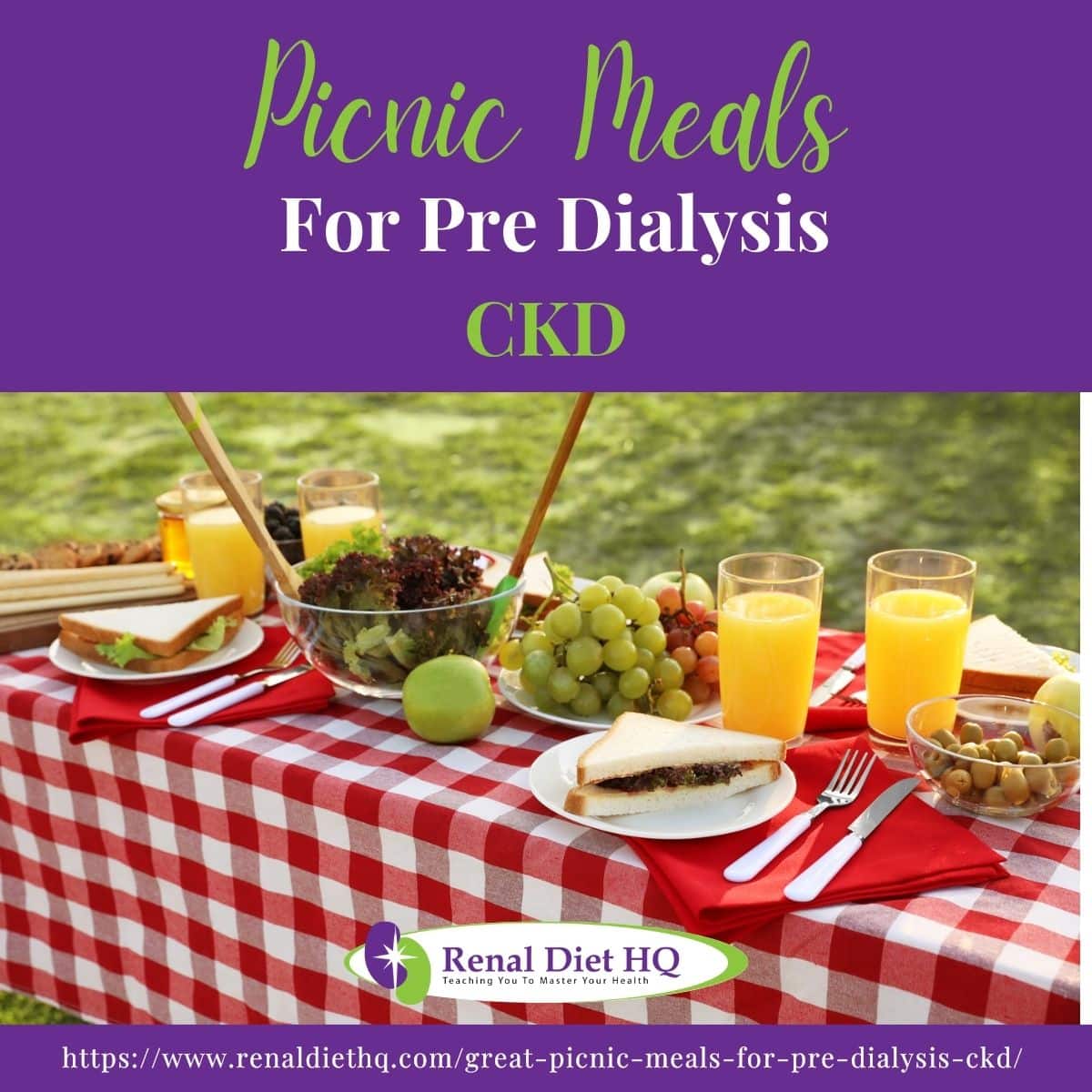 Protein-Rich Picnic Meals
Why low protein diet in kidney disease? While it's true that protein restriction is recommended for pre-dialysis CKD patients, it is still important to get enough protein from healthy sources to avoid malnutrition and excessive catabolism.
Protein helps build and maintain muscle mass, which is especially important before dialysis begins. Let's explore some healthy protein-rich sources and how they can be incorporated into a kidney-friendly picnic meal.
Protein-Rich Sources
Grilled tofu makes an excellent source of lean protein while keeping it low in fat. Low-fat dairy products like yogurt or kidney friendly cheese are also great sources of protein, as well as quinoa and other soy products.
Other food items that you can consider are chicken, turkey, most seafood, fish, eggs and egg substitutes. With these easy additions to your picnic basket, you'll have plenty of options for healthy kidney-friendly meals that can provide adequate protein.
Meal Ideas
Now that we have discussed the importance of protein in pre-dialysis CKD picnic meals, let's look at some meal ideas that incorporate this nutrient.
Grilled tofu paired with vegetable kebabs are great options for a healthy main dish, but don't forget to think about side dishes as well!
Low fat yogurt or quinoa salads (quinoa renal diet) will make sure everyone is getting enough protein. You can also add fun snacks such as popcorn or fruit salad if you want something extra special.
Grilled lean chicken, turkey, or fish seasoned with herbs and spices such as oregano or black pepper can also make a great addition to your picnics. Make sure to use less salt and to control your portions during meals.
But of course, remember to follow the nutritional guidelines set by your doctor; this includes any meal plans or vitamin supplements you might need. So next time you head out for a picnic with your friends or family, take these tips into consideration so you can enjoy your outdoor meals despite your diet restrictions.
Carbohydrate-Friendly Picnic Meals
Healthy carbohydrate sources are important to incorporate into a pre-dialysis kidney diet to make sure you have enough energy sources.
Some kidney-friendly meals that can give you your carb needs include grilled foods for CKD, potato salad, quinoa salad, and turkey wraps. For something sweet, we could try fruit salad, a Greek yogurt parfait, or cold pasta salad.
Hummus and pita, bean salad, slaw salad, and chicken skewers are all great options too. Finally, Greek burgers, zucchini fritters, tabbouleh, and cucumber sandwiches are all excellent carb-friendly picnic meal ideas.
Let's look into some of the popular kidney-friendly meals that can give you your carbohydrate fill during a picnic.
Healthy-Carb Veggies
Grilling up some veggies is a great way to enjoy a picnic meal for pre-dialysis CKD patients. You can create tasty and nutritious options that are full of vitamins, minerals, with healthy carbohydrates, and high in healthy fats.
Plus, it's an easy task when you know the grilling tips! Before getting started with your veggie meal prep ideas, be sure to choose your vegetables wisely.
Cauliflower, carrots, garlic, onion, mushrooms, peas, zucchini, yellow squash, green beans, bell peppers (green, red, or yellow bell peppers), jalapeno peppers, and eggplant can all make a satisfying grilled veggie meal.
When it comes to portion control, keeping the portions small helps provide balanced nutrition without overloading on carbs. Finally, adding a little bit of healthy fat (like olive oil) can help enhance the flavors of these vegetables while still staying within dietary guidelines.
Potato Salad
This classic dish can be made in so many creative ways - and with careful packing, it makes the perfect accompaniment to any outdoor gathering.
To make this more kidney-friendly, make sure to cut and boil your potatoes well to reduce its potassium levels. You can also use low fat mayonnaise instead of a regular one.
If you need to cut down further on calories and potassium, you can do some tricks like swapping out potatoes for cauliflower. If you are making cold pasta salad, try adding more vegetables instead of pasta.
These are all creative swaps that can be used to reduce carbs while still maintaining flavor. You can also learn more about leaching potatoes to get even more out of this amazing vegetable.
Low-Potassium Ideas
For patients with kidney disease, it is recommended to consume less than 3 grams of potassium per day.
When it comes to low potassium foods, eggs and fish are great sources of protein. Vegetables, grains, and dairy are also great for a balanced diet, and for those looking for something sweet, fruits, nuts, and seeds are good options.
As for starches, legumes, rice, quinoa, oats, polenta, yogurt, and tofu are all great choices. There are so many low potassium diet for kidney disease options!
Eggs
Can you eat eggs on a renal diet? Eggs are an excellent source of protein, making them a great option for those looking to create low-potassium picnic meals. They're also incredibly easy to make and transportable snacks that can be enjoyed on the go.
To keep your meal planning healthy and safe, opt for hard boiled eggs rather than scrambling or frying with oil. This swaps out unhealthy fats found in scrambled eggs while still providing necessary protein intake.
For additional egg recipe ideas, try packing deviled eggs with lower fat mayo alternatives or creating a delicious egg salad sandwich using mustard instead of traditional mayo.
Egg dishes make delicious additions to any picnic menu without worrying about potassium overload – so don't forget to include them when you're meal planning!
Fish
What fish is good for kidneys? Fish is another excellent source of protein that can be utilized to create delicious, low-potassium meals. Grilled salmon served on a bed of rice is a great way to get the most out of this healthy food without going overboard on potassium levels.
Salmon salads are also an easy and tasty option for picnics, as they require little prep work but still provide plenty of flavor.
Fish tacos and tilapia wraps are two other crowd pleasers that offer up nutrients and satisfaction for everyone in attendance! For those looking for something a bit more unique, seafood skewers make amazing appetizers or sides to any meal.
With these kidney disease diet recipes for fish dishes, you're sure to have a hit at your next picnic lunch – all while keeping it low-potassium!
Low-Phosphorus Alternatives
Curious about low phosphorus foods? Phosphorus intake for CKD patients must be kept between 800 and 1000 milligrams per day.
There are many low-phosphorus alternatives for pre-dialysis CKD, starting with grilled vegetables. They're a great way to get the flavor of grilling without the phosphorus.
Quinoa salads are another great option - they're packed with protein and fiber, and still super tasty. Plus, for those who miss burgers, legume burgers are a great alternative!
They're low in phosphorus, but still high in flavor. And if you're looking for a side, why not try some sweet potato fries? They're a great companion to any of the above options.
Let's look into some popular, easy to make low phosphorus picnic ideas!
Grilled Vegetables
Grilling vegetables is an excellent way to create low-phosphorus alternatives for pre-dialysis CKD patients. With the right grilling techniques, portion control and food safety in mind, one can easily get creative with recipes while maintaining a healthy balance of nutrients on their plate.
For instance, you could marinate eggplant slices or green peppers in olive oil and spices like ground pepper before placing them over medium heat on the grill - this will help add flavor without sacrificing any nutritional value!
Other vegetables you can try are asparagus, mushrooms, yellow squash, onions, peppers, and zucchini. Grilling these vegetables can also be a low-sodium option as long as you skip the table salt and opt for herbs and spices instead.
Plate presentation is also key when serving grilled vegetables. Try arranging different colors side by side to make your meal look more appealing and inviting.
Ultimately, having some knowledge about grilling techniques and being mindful of portion size allow us to make enjoyable low phosphorus meals that are both delicious and nutritious.
Quinoa Salads
Is quinoa good for kidney disease? Quinoa salad is another great low-phosphorus meal option. Not only are these grains-based salads vegan friendly, but they also provide an energy boosting snack for CKD patients.
Plus, with a few meal prepping tips in mind, you can easily whip up creative recipes using quinoa that will leave your taste buds satisfied.
For instance, try tossing together cooked quinoa with diced vegetables like bell peppers and tomatoes - this is a great balanced dish that contains all of the necessary nutrients without compromising flavor.
And if you're looking for something extra special, adding some nuts or dried fruit into the mix adds texture and sweetness as well!
So don't forget about quinoa next time you plan out your meals; it's sure to become one of your favorite go-to dishes.
Legume Burgers
Legume burger is another good low-phosphorus alternative that can double as an easy meal. They can be made from plant-based food such as beans, tofu, nuts, and grains.
Not only are these plant-based patties packed with the protein and vitamins CKD patients need, but they're also versatile enough to make in large batches so you have leftovers to store.
Plus, if you keep food safety tips for people with kidney disease in mind, such as refrigerating cooked patties within two hours of cooking them, then your meal planning can be much simpler and safer.
Legume burgers can easily be a part of a meal plan, not just for a kidney-friendly picnic
But since every patient's diet should vary based on their needs, don't forget to consult with a CKD dietitian before adding this tasty treat into your weekly menu. With all these benefits and more, legume burgers could just become a staple in your meal plans.
Low-Sodium Alternatives
Grilled vegetables are a great low-sodium alternative for a picnic meal for pre-dialysis CKD patients; they can be seasoned with herbs and spices for flavor without the salt. Insert kidney friendly spices ideas here.
Salads are also a great option that can be made with a variety of vegetables and a dressing that doesn't contain a lot of salt.
For a sweet treat, a fruit platter is a great way to provide a snack without the added salt. It can be paired with a yogurt dip for a healthier alternative.
All of these options provide a tasty picnic meal that won't add a lot of sodium to the diet of pre-dialysis CKD patients.
Low-Sodium Salads
Salads are a great low-sodium alternative for pre-dialysis CKD patients. With easy cooking and healthy eating in mind, vegan meals like bean salads can be portioned out easily to last multiple days while still providing maximum nutrition with minimal salt. Hence, this is something you can enjoy even after a picnic.
For more flavor without the added sodium, add some tasty fresh vegetables like tomatoes, cucumbers or bell peppers. And don't forget about non-traditional salad dressings that provide an unexpected taste experience.
Think vinaigrettes made from olive oil, cloves of garlic, fresh lemon juice and herbs instead of typical creamy options.
Salads low in sodium can not only help keep blood pressure in check but also make mealtime exciting again - so let's get creative and consider bringing a salad bowl to your next picnic.
Fruit Platter
Fruit platters are a great way to get your daily dose of vitamins and minerals without relying on sodium. Not only is fruit naturally low in salt, but it also adds a refreshing twist to any meal – making it perfect for picnics or summer barbecues.
Apples, lemon, berries, peaches, pears, and cherries are healthy fruits that you can easily cut up to add in your fruit platter. And don't forget - fresh fruit helps to make every meal look beautiful too!
Whatever menu you decide upon, these tasty treats will keep everyone feeling energized throughout the day – so why not try something new today?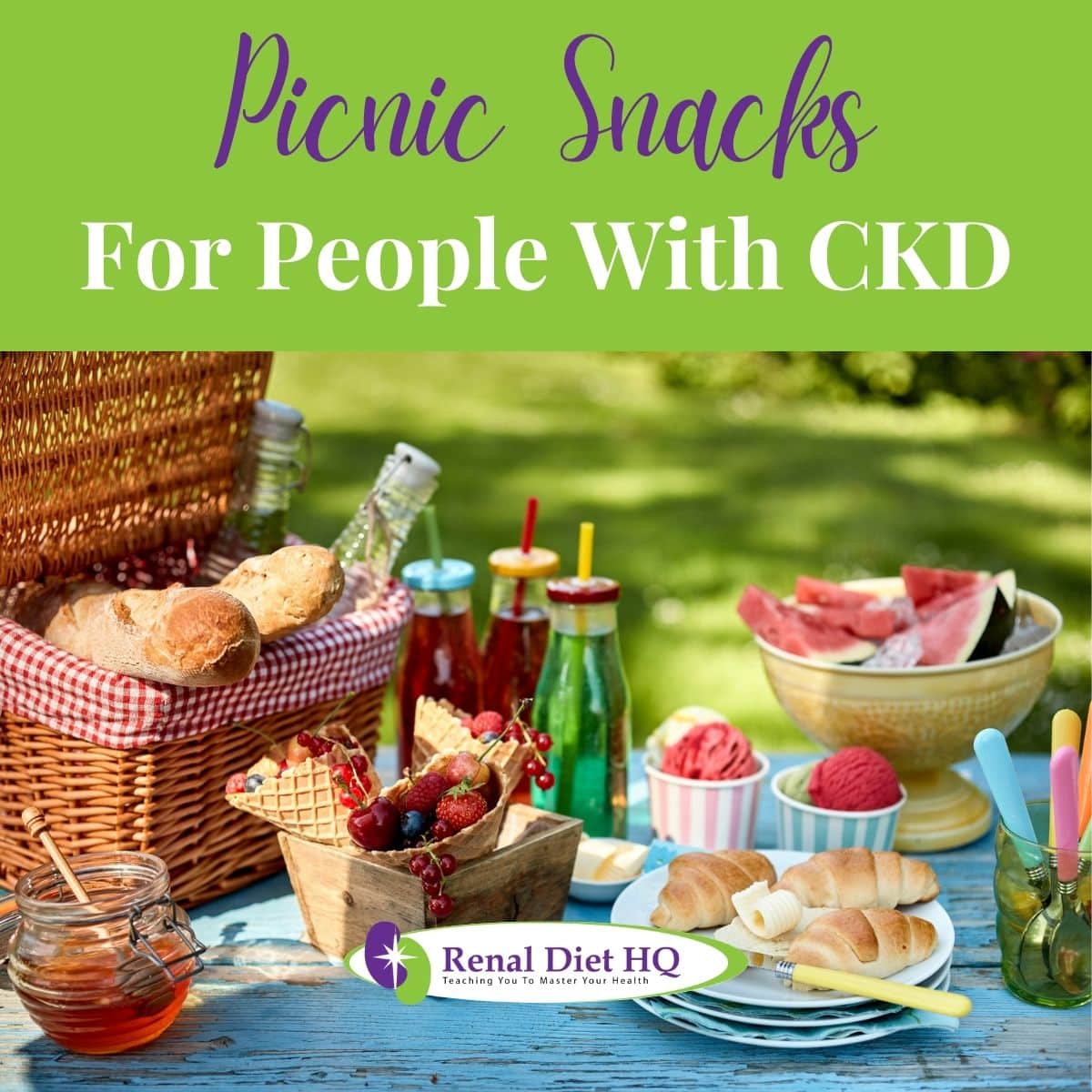 Kidney-Friendly Picnic Meals
Sandwiches are always an easy go-to for picnics - try using whole wheat bread and fresh kidney-friendly ingredients like tomatoes and lettuce.
Salads are a great way to get in some veggies, too - put together a quick one with leafy greens, cucumbers, and your favorite dressing.
Fruits and veggies make great snacks, so don't forget to pack some cut-up apples, celery, and carrots.
Sandwiches
If you're looking to keep your pre-dialysis CKD diet plan in check, sandwiches are an easy, budget-friendly meal option that can be tailored to fit any lifestyle!
Preparing them is simple; there's no need to heat up or cook anything - just grab some fresh ingredients and assemble.
Healthy options include vegan recipes like hummus wraps with veggies and whole grain breads, as well as low fat dishes such as turkey sandwich on rye with light mayonnaise.
With so many creative combinations available, it's easy to make delicious and nutritious meals everyone will enjoy at the next picnic! You can make kidney friendly sandwiches.
Picnic Salads
Are salads good for kidneys? For a kidney-friendly picnic meal, salads are another great option that's easy to pack and serve. They don't require any cooking or heating up.
Just cut up and add in some seasonal ingredients like tomatoes, cucumbers, lettuce, and other vegetables of your choice! To make the salad even more creative and nutritious, try adding nuts or fresh fruits for an added crunch.
Meal prepping is key when it comes to packing for a picnic. Chopping all the veggies beforehand will save time during the actual event. You can also prepare dressings ahead of time so you won't have to worry about carrying extra containers with you on the day of the picnic.
Picnic Snacks For People With CKD
Fruit is a great option for CKD sufferers at a picnic, as it's light and easy to eat. Vegetables are also great, like carrot sticks or celery with hummus. For snacks, try rice cakes, cheese and crackers (best crackers for kidney disease), or nuts.
Sandwiches and wraps are good, too. For salads, adding a dollop of yogurt and hard boiled eggs can give you a much needed protein boost. Finally, smoothies and protein shakes can be a great way to stay hydrated and get some extra nutrients.
Fruits On The Go
When it comes to picnic meals for pre-dialysis CKD, fruit is a great option! Not only are these healthful foods portable and easy to portion control, they also provide the perfect balance of nutrients.
Take some fresh apples or oranges in your bag, or cut up watermelon slices into small pieces that can be easily enjoyed at your picnic spot. Fruit salads are also an excellent choice – mix together bananas, blueberries, raspberries, strawberries and any other fruits you fancy with a light dressing to keep things interesting.
Are berries high in potassium? Refreshing smoothies made from frozen berries and yoghurt will also make great snacks as well as being low on sugar.
And don't forget about dried fruits such as dates and apricots which offer an even more convenient way of having something sweet without compromising on nutrition.
All in all, there's no reason why those with CKD should miss out on the fun when it comes to enjoying tasty yet balanced picnics - simply choose wisely!
Vegetable Snacks
Vegetables are a great way to make sure you have plenty of nutrients in your picnic snacks for people with CKD. Vegetables like corn on the cob, bell peppers, and asparagus can be pre-prepped and popped onto the grill when you reach your destination for a delicious side dish that everyone will love.
If grilling isn't an option, there are plenty of vegan alternatives such as hummus wraps or quinoa tabouli which can easily be made into pre-made snacks.
Carrot sticks and celery sticks are also easy to prepare options that add a crunch. And don't forget about healthy dips like guacamole or baba ganoush – they'll add a much needed punch of flavor!
Is carrot juice good for kidneys? Give it a try! With so many options available, it's easy to whip up some tasty and nutritious meals while still keeping things interesting at the same time. Eating well doesn't mean sacrificing taste - just choose wisely and enjoy!
Other Picnic Snacks And Tips
When it comes to planning picnic snacks for people with CKD, the most important thing is to consider portion sizes and food safety. We can enjoy meals without overindulging or risking contamination.
To make sure we're prepared for any situation, packing a variety of smaller snack options can help us meet everyone's needs while traveling. For example, individual bags of chips and nuts are great for easy portion control.
Additionally, pre-made sandwiches and wraps (give these sloppy joe wraps a try) are an excellent way to ensure that all dietary restrictions are taken into account when selecting meals. With these strategies in mind, you'll be able to provide healthy snacks that still taste delicious!
Dessert Options For CKD Patients
Fruit salad is a great option for CKD patients. It's packed full of essential vitamins and minerals, and is low in sugar, sodium, and phosphorus. Banana muffins are another great option as they provide a sweet treat without the added sugar.
Oatmeal cookies are another delicious way to get some whole grains into your diet. They also have beneficial soluble fiber to help keep your cholesterol in check.
Overall, all three of these options provide a healthy, tasty dessert for CKD patients. Let's look into each of them! Give kidney friendly desserts, low potassium desserts a chance, you'll love them.
Fruit Salad
Nothing says summer like a delicious and refreshing fruit salad! With the right ingredients, it can be an incredibly healthy dessert option for CKD patients.
By following some simple healthy eating tips such as portion control during meal ideas and making sure to stay hydrated with plenty of fluids throughout menu planning, this sweet treat can make a great addition to any picnic or gathering.
Filled with juicy berries and succulent citrus fruits, a fruit salad is not only nutritious but also tasty enough to satisfy even those with the biggest sweet tooth. Best of all, it's easy to prepare in advance so you don't need to worry about last minute preparations on the big day. Give kidney friendly fruits a try!
Oatmeal Cookies
What about oatmeal and kidney disease? Oatmeal cookies are a great dessert option for CKD patients. Not only can they be made ahead of time and stored in airtight containers or bags, but the ingredients are also easy to find at any grocery store.
A full batch requires minimal oil, sugar and dairy - all of which makes them both nutritious and delicious! Plus, it's always helpful to read nutrition labels when selecting items so you know exactly what is going into your cookie dough.
To make sure these treats stay fresh during travel days, strategies like packing an insulated lunch box can help keep food fresher longer.
With meal prepping tips such as these, oatmeal cookies become a convenient snack that you can enjoy without feeling guilty about compromising your health.
No more skipping out on desserts while on-the-go; just whip up some yummy oatmeal cookies and hit the road!
Gourmet Burger Recipes
Can you eat a hamburger on a renal diet? What's a picnic without burgers? Make up your own with these two sample recipes. The yield allows for others at the picnic to sample them, too!
Gourmet Turkey Veggie Burgers
Ingredients:
1 pound ground turkey
1 bunch green onions, diced finely
1 handful fresh cilantro, chopped
1 cup carrots, grated finely
2 eggs
1 red pepper, de-seeded and diced
1 cup finely sliced spinach
1 teaspoon low-sodium poultry seasoning
Instructions
The day before the picnic, slice all vegetables and mix together in a bowl with seasoning and ground turkey. Add eggs. Make into nine burgers and set on a plate or inside a container to take with you to the picnic. Cover with tin foil or lid.
At the picnic, cook burgers on top of tin foil or wrap each one inside tin foil and place on the grill. Cook until done. The purpose of the tinfoil is to prevent the burger from falling apart. This is a very flavorful burger. Add your favorite low-sodium condiments.
Spicy Grass-Fed Gourmet Buffalo Burgers
Ingredients:
1 pound grass-fed ground buffalo (or beef)
1 sweet onion, diced finely
½ teaspoon ground oregano
1 Tablespoon horseradish, grated
2 eggs
⅔ cup low-sodium pineapple tomato salsa
Instructions
Make this burger mix the day of your picnic.
Mix all ingredients together in a large bowl.
Form into nine burgers and stack them with saran wrap in between each other.
Wrap the stack with tinfoil, place in a Ziploc bag, seal the bag and take it to the picnic.
Once at the picnic, cook the burgers inside tin foil placed on top of the grill until done.
The tin foil seals the flavor inside each burger. These burgers are known for their 'bite'.
And the great thing is that horseradish, onions, pineapple and tomatoes are full of phytonutrients that help boost your immunity and clean out your sinuses!
Serve only with low sodium condiments. One tablespoon of regular mustard or ketchup contains about 168 mg sodium for each although a tablespoon of mayonnaise is less – 105 mg.
The low-sodium versions of these foods can make a big difference for your kidney health.
Kidney Diet Salad Recipes
Since the average white hamburger bun contains 200 mg sodium, you can opt to go even more gourmet than just with the burgers. Simply wrap your cooked burger in lettuce leaves. It's what some fine restaurants do! Add pineapple tomato salsa on top of the burger if you would like even more of a burst of flavor.
One thing that makes picnics great is many different foods to choose from. When you have CKD, your variety means lots of vegetable and fruit dishes, which are naturally low in sodium.
By adding passionate flavors that delight and excite the taste buds to these foods, your picnic guests will look at their own food as boring!
Here are some ideas on how to mix different flavors together in kidney diet salad recipes full of fresh fruits and vegetables:
Apple-Cherry-Coconut- Celery-Fennel Salad
Mix the following ingredients:
1 diced apple
1 cup pitted cherries
½ cup coconut flakes (unsweetened)
½ cup diced celery,
½ cup diced fennel bulb.
Sprinkle the juice of one lemon on top.
Mix thoroughly and refrigerate 'til picnic time.
Zucchini-Baby Corns-Baby Lentils-Cherry Tomato Salad
Mix the following ingredients together:
1 diced zucchini
1 can baby corns drained and rinsed well to cut down on sodium
⅔ cup baby lentils already cooked
12 cherry tomatoes
juice of one lime
½ cup balsamic vinegar
¼ cup oil.
Refrigerate so flavors will mingle.
Sauerkraut-Rice-Hot Pepper Salad
Mix the following ingredients:
1 cup low-sodium sauerkraut purchased in the refrigerated section at the grocery store
2 cups steamed short-grain rice
2 mild to hot chili peppers that have been de-seeded and diced.
Refrigerate so that flavors will mix overnight.
Hot peppers contain capsaicin, excellent for heart health. The sauerkraut lowers the Glycemic Index of the meal so that just in case you cheat with a dessert you shouldn't have, the damage won't be so bad.
Sauerkraut also is full of probiotics that help your digestive system as well.
FAQs for Picnic Meals for Pre-Dialysis CKD
On A Picnic If You Have CKD
Picnicking can be a fun experience for those with CKD, as long as they take the necessary precautions. With careful planning, people with kidney disease can enjoy delicious meals while picnicking without risking their health or safety.
By following food safety guidelines and packing picnic foods that follow your renal diet, you'll be sure to have an enjoyable day! So don't let kidney disease keep you from having a great outdoor adventure; just remember to plan ahead and pack smartly!