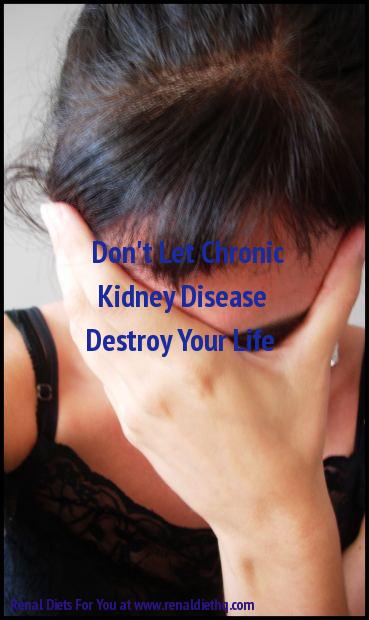 Hearing your doctor deliver a chronic diagnosis such as kidney disease will absolutely, without a doubt, change your life. Your life will never be the same. Chronic kidney disease, in fact, has the potential to destroy your life… but it doesn't have to.
A diagnosis like chronic kidney disease can make you feel depressed, alone, fearful, or hopeless. Or it could empower you to make better choices, be healthier, and live your life to its very fullest potential. Don't let chronic kidney disease destroy your life. Instead, make the decision to be empowered. Do whatever you have it in your power to live a healthy and happy life.
Eat Healthy
Once you receive your diagnosis of chronic kidney disease, your doctor will likely give you a long list of dietary restrictions to follow. Following these dietary restrictions, and eating as healthy as possible, is your main ticket to halting the progression of kidney disease and to living your longest and healthiest life possible. Treat those restrictions as law, and change your diet. Changing your diet can actually help you to avoid kidney failure in the long run.
Get Moving
At whatever level you are at, it is important to get a least a little exercise each day. This can mean a simple walk around the block each day, a water aerobics class, or even playing with your children or grandchildren. A simple thirty minutes of cardiovascular exercise a day can do wonders for strengthening your body and mind.
Follow Doctor's Orders
Before you make any changes to your diet, exercise regimen, or daily routine, you should check with your doctor. Make sure you are truly listening to what your doctor has to say, ask questions when you have them, and follow his or her orders to the best of your ability. Following your doctor's orders, especially when it comes to dietary changes, can actually help to stop the progression of kidney failure.
Be Happy
It is true that you have been diagnosed with a chronic illness. It is also true that you will never regain the function that your kidneys once had. What isn't true is that there is no hope. You are alive, and that is something to celebrate. Look around you and count your blessings– your friends, your family, each breath that you take. Know that you have it in you to live a healthy and happy life despite kidney disease. Your happiness and will to live are something that no one, and no disease, can take from you.
Chronic kidney disease can destroy your life, it's true. It can, but it doesn't have to. Instead, you can take this diagnosis as warning to start living your life as healthy as possible. Instead of treating chronic kidney disease as a death sentence, treat it as a second chance to really make a difference in your life and overall health. Make changes to your diet, exercise daily, follow all of your doctor's orders and find it in yourself to be happy and thankful for what you do have in life. If you do this, chronic kidney disease will not be able to destroy your life. Leave a comment on what you have done to stop chronic kidney disease from destroying your life.