So many people across the world struggle with making the best decisions regarding their diets. Although they are the people that often need to pay the most attention to their diets, people with chronic conditions such as renal failure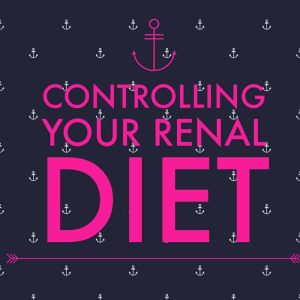 , diabetes, and hypertension often have the hardest time with their struggle to eat healthy. Some of this stems from simply being stressed out by the restrictive nature of many diets to control these chronic conditions. Others simply do not know how to build and stick to an effective meal plan.
Talk To Your Doctor
Have a discussion with your physician or nutritionist about what foods you both can eat and should stay away from. Often, your doctor may have a list that you can keep to help you cut down on the guess work involved. It is a good idea to take notes during your conversation, and remember to focus not only on what you cannot eat, but also what you can and should eat. It is always best to start with your doctor because your situation may differ than other people, and depending on what stage of your disease you are in, you may have more or less restrictions.
Remember Your End Goal
That is: You want to feel good and live a long and healthy life. You might be surprised by how much your diet impacts your entire life and well-being. You cannot just rely on medications to make you better, you have to make changes for yourself as well. Every bite of food that you put into your mouth gets broken down, processed by your kidneys, and the byproducts are filtered through your entire body. Controlling your diet can not only help you feel better, but it could help you slow or even stop the progression of many chronic illnesses, including chronic kidney disease. You have the potential to effectively stop the progression of your disease and never reach end stage kidney disease if you take care of yourself properly.
Plan Effectively
A successful diet almost always comes down to effective meal planning. Planning out your meals and executing it in an organized fashion can help you stick to a healthier diet almost 100% of the time. Of course, everything depends on you, but you can benefit from a meal plan so much. Meal planning helps you know what you are going to eat ahead of time, purchase all of the necessary ingredients, do prep work ahead of time, and be ready for each and every meal. It takes the guess work out of the ubiquitous questions like "what's for dinner?" and "what can I eat tonight?". It starts with researching great recipes that fit into your diet plan, mapping out what meals you plan to eat and snacks, shopping according to your ingredients list, and follow through. After all the work you put into your meal plan, you are always more likely to follow through.
Controlling your diet, especially with chronic conditions like kidney disease, diabetes, hypertension, and more, is an important part of living the best and longest healthy life. Not only could it keep you around longer, but your comfort and quality of life are severely impacted by your diet. Following these tips for getting your diet under control will help you get on the road to health. Click here for more tips!