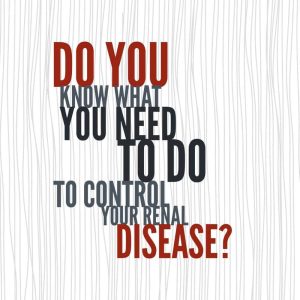 Being diagnosed with a chronic health issue such as renal disease is hard. The diagnosis itself can be hard to hear, but then being expected to change your entire diet and lifestyle feels over the top. At first, changing your lifestyle can feel like you are being expected to change yourself and who you are.
All of these expectations feel unreasonable, but you must understand that they are necessary changes. Controlling your diet, especially, is of the utmost importance for chronic issues such as renal disease. The implications of not controlling your renal diet is the eventual failure of your kidneys, which will change your life immeasurably more than changing your diet.
Understand What Renal Disease Is
There are a lot of people that label themselves with diagnosis, but do not really understand what their conditions mean. Understanding what is happening inside your own body can help you understand not only your condition, but how and why certain things like diet need to be controlled.
Renal disease is a condition marked by the progressive failure of the kidneys. The kidneys are responsible for many processes in the body, most importantly the filtering of excess materials such as sodium, fluid, and potassium. The kidneys filter these materials and then flush out the excess. When the kidneys are not working properly, this vital process is slowed or halted as the kidneys are forced to work harder and harder until they are eventually no longer effective and go into kidney failure.
The further the disease progresses, the more restrictions you will have in your diet. This is to make up for the work that your kidneys are no longer able to do.
Understand A Renal Diet
The first step to control your renal disease is to truly understand what a renal diet is. Too many people just hear people telling them what they can and cannot do and don't truly learn about what it will take to keep themselves healthy. It may help to ask your doctor why certain foods are bad for you and what affect they have on the body. For example, everyone pretty much knows that sodium is bad for you if you have renal disease. This is because the kidneys are no longer able to flush out the excess sodium and the buildup can cause real and uncomfortable health issues such as fluid retention, swelling, high blood pressure, and more severe and potentially life threatening issues.
Make Things Easier On Yourself
Anything you can do to make keeping to a renal friendly diet easier on you should be a top priority. Proper research and planning can make controlling your renal diet so much easier. Using lists that your doctor or nutritionist has given you, cookbooks, or the internet, you should build a weekly meal plan to map out healthy, renal friendly meals for each day of the week. Using that meal plan, you can make a grocery list and do whatever prep work ahead of time to make life a little easier.
Renal disease might feel like it has taken away your independence, but rebelling against a kidney friendly diet is dangerous. You absolutely must control your renal diet or you could truly end up in kidney failure, forced to do dialysis or worse. You could lose your life just because you don't want to eat right, when really it is not difficult to control your renal disease.   Just a few steps to learning the correct way to eat will go a long way for your health and controlling your kidney disease. Click here for more information.