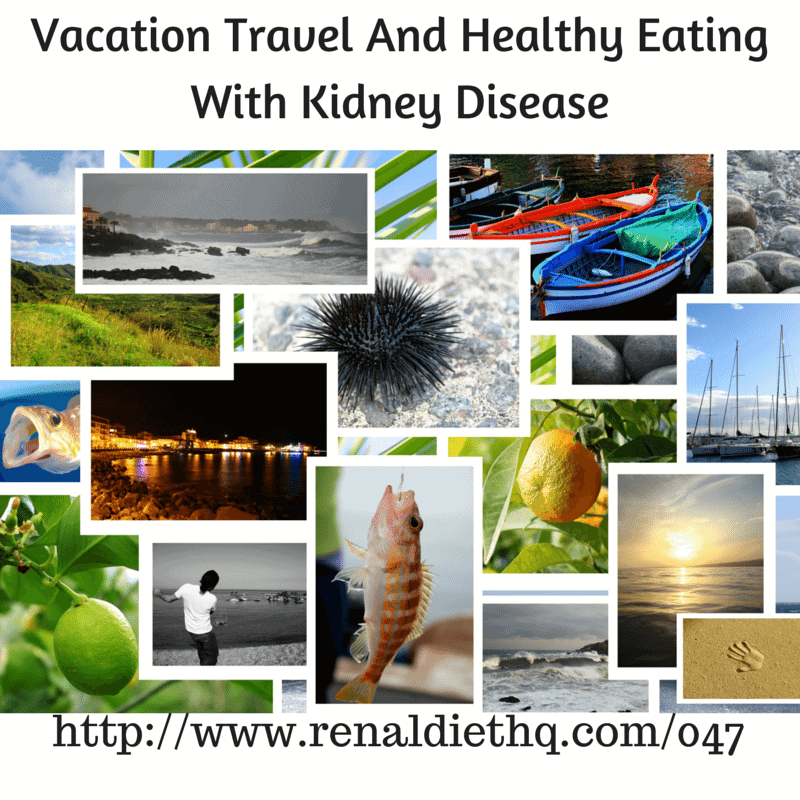 Podcast #47 Released on July 22, 2015
Send in your questions about all things related to chronic kidney disease to podcast@renaldiethq.com
Vacation Travel and Healthy Eating Ideas For Chronic Kidney Disease
Traveling Smart
Most people tend to eat a lot of junk food while they are traveling; road trips become a reason to constantly snack on chips, candy, and fast food and airport restaurants are hot spots for greasy foods and booze. Many times this occurs simply because it is expected, but it actually isn't necessary.
If you make a plan and stick to it, you can keep your eye out and easily find smarter options. The bigger restaurants in airports typically have a lot of healthier meal options, and you can skip the booze and stick to healthier options like water or lemonade. Simple planning for road trips can help you avoid the junk food.
Travel Foods to Bring With You
Keeping a stock of healthy snack options is always a great idea when you are traveling. These options should be kept as simple as possible. A little preparation ahead of time can help with this. For example, use snack bags to separate small servings that are easy to open and eat while on the road. Foods like carrots, celery, sliced apples, strawberries, animal crackers, salt free pretzels, etc. are all excellent options for easy snacking while on the road.
Here are some bars you can eat on the road and order: https://www.renaldiethq.com/nutrition-bars-you-can-eat-on-a-renal-diet/
Eating Out On the Road
Road trips, of course, often involve meals at roadside restaurants. This is absolutely fine, as long as you are vigilant about what you are eating. As a general rule, it is better to order a la carte and avoid buffets. This is because you can request meals to be made to your specifications.
Healthy ideas for eating out include asking for sauces on the side, requesting that no salt be added while cooking, and sticking to simple steamed vegetables for sides. Avoid casseroles because they often are full of added sodium. Remember that it may seem like you are missing out, but overall you will feel so much more comfortable while on the road if you stick to the healthiest meals possible.
The Rules of Fast Food
Now and again, you may not be able to avoid hitting a drive-through window. As long as you aren't doing it for every meal, there are options that are much better than others.
Order your hamburgers with few condiments, sticking to mayonnaise and mustard when needed. Lettuce, onion, and one slice of tomato are usually safe.
Order a side salad or fruit cup for a side instead of fries.
Stick to water or clear soda to drink. If you are choosing chicken, go for the grilled option rather than fried to cut down on oil and salt.
If you are paying close attention, it can be easy to make healthier decisions in any situation.
Stick To a Schedule
The times that people typically find themselves overeating or making truly poor decisions, it is because they have let themselves get too hungry or just didn't plan properly. There are tricks to avoid this- one is keeping a stash of healthy snacks, and the other is keeping to a set schedule.
When you are at home, you tend to eat at around the same times of the day. This shouldn't change too much when you are traveling. Try to plan your trips so that you will have easy access to food, restrooms, and a little exercise during the times that you would if you were home.
Stay Hydrated
Many people simply forget to drink enough water, others believe that they will have to make less stops on their trip if they avoid drinking. This isn't healthy at all! Make sure you are sipping water and staying plenty hydrated, especially if you are flying.
Get Out and Move
It is important to get out and stretch your legs once in a while. If you are on the road, try to stop every two to three hours for bathroom breaks and a short walk. It will help keep you energized as well as help with back and leg pain, etc.
Read this podcast  RDHQ047 Transcript
Email me at podcast@renaldiethq.com for suggestions
Find us on iTunes at: www.renaldiethq.com/go/itunes
Find us on stitcher radio at: www.renaldiethq.com/go/stitcher
[socialshare style="hc" title="Share This Page" facebook="yes" twitter="yes" googleplus="yes" color="FAFAFA" bcolor="DDDDDD"]
Podcast: Play in new window | Download
Subscribe: Apple Podcasts | Google Podcasts | Stitcher | RSS