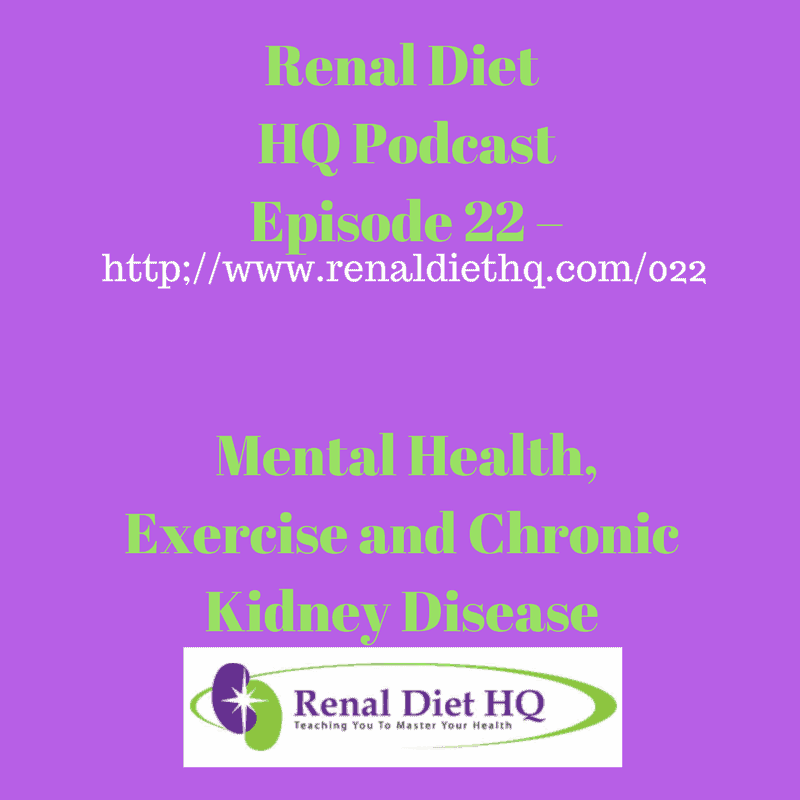 Podcasnullt #22 Released on May 21, 2014
Send in your questions about exercise to podcast@renaldiethq.com
This week it's all about healthy blood pressure and some relaxing exercises:
Exercise and Fitness is the theme for the month, and I want you to send in your questions about it. I am going to spend time talking about how exercise and fitness make you better.
#1 – I am almost done with our new product this month that I have been working on all of May! I will be finished by Friday this week.. I am offering a "pre-order" discount and here is the link to more information: https://www.renaldiethq.com/go/caregiver. It's going to be a 130+ page 3 ring bound notebook on "All Things Caregiving For Chronic Kidney Disease". You will find it to be a great resource, and it will be available in pre-order for less than half price – just for ordering early! To order for just $47 – you will get both the hard copy and digital copy if you are in the US – sorry, no shipping outside the US but I will have a digital only price. Thanks. Last day for the pre-order price is May 26th!
#2 – Talking about how your mental health is very important related to exercise and keeping a good attitude.
#3 – Use these 5 Flexibility exercises to make your life a little easier.
#4 – Preview for next week – I will be interviewing Charlotte Siems about T-Tapp for exercise! Yeah.
Thanks for listening, more information coming soon on the caregiver guide.
Email me at podcast@renaldiethq.com for suggestions
Find us on iTunes at: www.renaldiethq.com/go/itunes
Find us on stitcher radio at: www.renaldiethq.com/go/stitcher
Podcast: Play in new window | Download
Subscribe: Apple Podcasts | Android | RSS