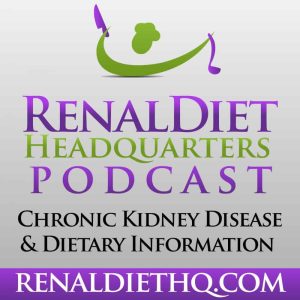 As our inaugural episode, I want to welcome you to the first Renal Diet Headquarters podcast. As your host, Mathea Ford, Registered Dietitian and CEO of Renal Diet Headquarters, I take time in this episode and talk about what we are going to bring you in this format. I am looking forward to bringing this new format to you.
This episode is being released on Christmas Day, December 25, 2013, and here are the links and information talked about.
Our mission for Renal Diet Headquarters is to be the most valued resource on kidney disease on the internet for people to use to improve their health. Each week we provide new and important information about kidney disease and CKD.
Link to this episode on our blog is https://www.renaldiethq.com/001
Email me about comments or suggestions at: podcast@renaldiethq.com
Author page on Amazon to learn more about Mathea's books is at: https://www.renaldiethq.com/go/author
Sign – up for the email newsletter: https://www.renaldiethq.com/go/email
This episode reviews information about Mathea Ford, and talks about our plans for the year to come. Want to know what is planned for the year ahead? We are talking about that and more on this episode of the Renal Diet Headquarters Podcast.
RDHQ 001 Transcript Click Here
Podcast: Play in new window | Download
Subscribe: Apple Podcasts | Android | RSS